Hello lovely people! A while back I asked on my Instagram what you would all like to see on the blog next and Summer Riding Outfits was the ultimate decision! So below I will be highlighting not only some of my favorite outfits but brands, sun protection gear, skincare and more that will make your summer at the barn more enjoyable!
First up, favorite outfits:
I love sun shirts, I think it would be viable to say I have a problem because I can't seem to stop purchasing them! Some of my favorite things about sun shirts would be, obviously the sun protection, the fun colors, and the comfort!
When I first tried one of these on my life was changed. I finally understood why I always saw people wearing them! They are the most comfortable riding tops ever and I would live in mine if I could.
This slideshow requires JavaScript.
In the photos above I am wearing sun shirts by It's a Haggerty's and Kastel Denmark (the one with my dog in the photo).
Some riding breeches/tights I have also been really into are the Ariat Freja Cooling Knee Patch Tights which you can find at Smartpak. They look like workout pants, feel so comfortable and really do keep me cool! They also have pockets on both sides that are big enough to hold my iPhone 7Plus.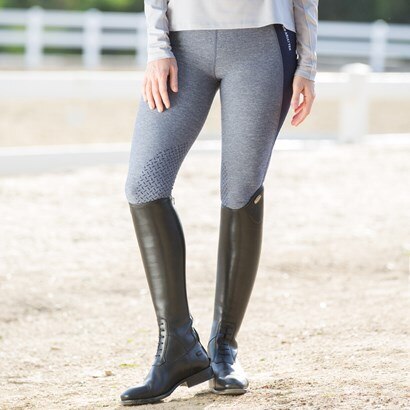 Now let's talk hats! One of my favorite companies, The Fit Equestrian, just released a new hat that is perfect to hide helmet hair and to keep our faces out of the sun! I wear mine around the barn and it's perfect for wearing around during show days as well! Check it out below (you can see Lunia has tested it too by all the little hairs on it).
Some skincare I have been loving recently:
FRÉ Skincare has changed my life and skincare routine. As someone who works out daily an spends hours at the barn I needed to find a skincare product that could help clear out all of the sweat and dirt that was accumulating in my pores. Luckily, I found FRÉ skincare because that is literally what they do! They are made for people who sweat and workout! I purchased their 123FRÉ set which comes with a moisturizer that has SPF30, a face cleanser, and a replenishing serum. Not only did they help me, but for every set they sell they plant an Argan tree!
You can learn more about them here. If you guys do use them let me know how you like it!
Thanks for reading! I hope you found some items here that will help you enjoy your summer spent at the barn!